This was a Valentine's Day Cooking Project: Asparagus and Artichoke Quiche!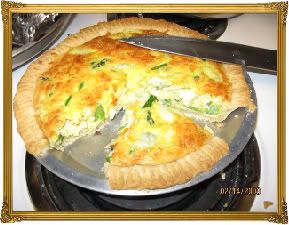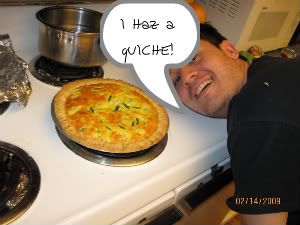 Andy made this crust from scratch so it was very yum. It would have been more artihokey but I kept eating them out of the can.
We are going to a Hindu Meet-Up tonight. It's at the former Udupi Cafe. I don't know the new name. You should go! Even if you don't eat you get free chai! I told Andy I will be new Indian husband shopping. He didn't laugh. But I'm pretty sure he'd ship me to India with the first offer he got.
Also. I took Emilio to the eye doc today. Guess what they had? A Starbucks in the lobby! This immediately made me think of the Lewis Black (<3) Starbucks rant. Sadly it didn't prompt a rant from Emilio. The new Spanish hip-hop CD he got seems to have lulled him.
Plus I didn't realize there was so much stuff over by Emerson and County Line Road.
I think I need to be on the Clean House show as an advisor.
I'm pretty sure I'd make a great assistant for:
Yes? No?