This will be my next sewing adventure:
I did make an owl necklace. I like this one better I don't think the owl I used is big enough to make my point, though.
I have moved on to hors d'oeuvres. Like something that woud have been served in The Ice Storm at the key party. Which even without the amazing clothes is in my top 5 favorite films/books. Not that I would participate in a key party. But definately a Tupperware party?
So this is what I came up with: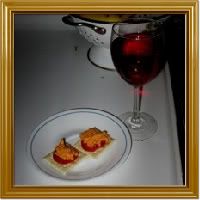 Pimento cheesespread with pepperoni on a cracker. Of course red wine as well. Maybe valium. Mix it up. I remember my grandma and aunts making food like this when I was younger and I was just disgusted by it. But I loved the parties. My own parties included drinking grape juice, or whatever, from a wineglass and pretending I knew Maude.
And wearing my grandma's shoes that looked like this:
. I thought I was very classy.
I was such a confused child.